Logan & Mom are home…..
Logan & Mom are home…..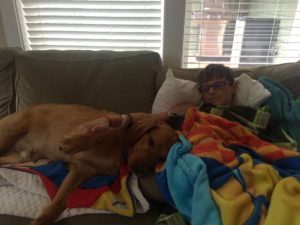 Logan & Kelly are home….finally!  It was a rough last couple of days….very rough.  Logan continues to have a temperature of around 103 and a rash all over his body.  This is common for the antibody treatment but scary for all involved.  He has also been hallucinating and waking up from dreams terrified.  Last night in particular he thought he threw his little brother Peyton off a building and he could not stop crying.  He was so hysterical it made him sick.  Kelly has not slept in 2 days so being home is also good for her.  If his temperature does not go back down by tomorrow night he has to go back to the hospital.
Thank you all for thoughts and prayers….
#loganstrong