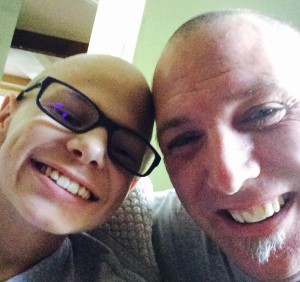 Logan is having a rather great week despite the circumstances.  Mom and Logan have been going up daily for chemo about 11am and are usually done about 2:30pm.  The nice part with that schedule is it gives Logan time to sleep in and play some video games in the morning.
This round vs. the last hes been much better controlling his sickness.  Dr. Kelly (a.k.a. mom) has found out the perfect mix of medicines to stay ahead his sickness.  She also went through some training and is giving him hydration fluids at home while he sleeps.
We thought he has been eating great but apparently the nutrition team at Children's disagrees….So today while up getting treatment they will be placing a NG tube.  This will go from a small backpack w/ formula (food) through a tube into his nose and straight into stomach.  When I asked Logan about having the tube he shrugged and said "whatever".  He continues to amaze us with his strength.
#loganstrong