No fever and counts on the rise….
No fever and counts on the rise….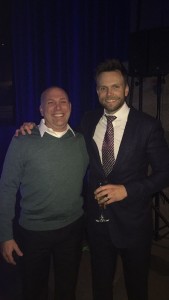 Logan & mom headed up to Seattle Children's early this morning to check his counts as well as get a blood transfusion.  They received great news…Logan's ANC counts (infection fighters) were at 284 and going up!  He also had no fever!  The blood gave him energy and he is feeling great.
Next week is full of tests & scans to see if his cancer has continued to remain contained.  We then meet with doctors to sign paperwork to take him off this experiment and move to another.
The next experimental treatment is an MIBG treatment.  Click here to read about it.  We are scheduled to start this at the end of October.
The above picture is of me and Joel McHale last night at the Ben Towne Benefit which when we left had raised more than 1.3 million dollars!  100% of all funds will go towards finding cures for childhood cancers!
#loganstrong