Hopefully coming home today…..
Hopefully coming home today…..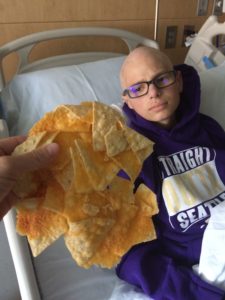 It's been an up and down week for Logan.  He finished up treatment Friday night but based on how he felt last time it was planned he stay a couple extra days for hydration.  So that brings us to today.  He is hydrated for the most part.  He just received platelets, as they were low as well.  But now his team is having trouble controlling his pain.  Logan is never one to complain of pain.  They do a pain scale with him 0 being no pain 10 being awful.  He almost always is a 0.  I think the highest I have ever heard him go was a 5 (and that was with a broken femur).  Today is is at an 8.  It is not consistent as it comes and goes.  They doctors are hesitant to send him home until the pain is controlled.
Is is getting his appetite back.  Logan is not one for the hospital food so he always sends his mom out to get what he is craving.  Today he decided to give the hospital food another try and he ordered nachos.   Who knew he would get one huge cheese chip;).
Thoughts and prayers the pain will go away to Logan & mom can come home….
#loganstrong